At Home Storage Containers
More and more people are getting at home storage containers to help them with their projects. And it's no wonder - storage containers offer a number of benefits that traditional storage methods simply can't match.
At home storage containers are incredibly versatile and convenient for whatever project you may have. The Storage box offers them in a variety of shapes and sizes, so you're sure to find one that's perfect for your needs. Since Storage Boxes are designed for moving and storage, they have many added features and benefits other storage units don't have. They can easily be moved from one location to another, or back to our storage facility with our unique tilt-free transportation.
Additionally, The Storage Box offers daily rates, so they're much more affordable than self storage or other container rental providers.
When should I use a
storage unit at home? 
A storage unit at home can serve many purposes. Perhaps you are renovating your home and need a place to store furniture and other items during the construction process. Or maybe you are decluttering your home in preparation for a move, and you need a safe place to keep your belongings until you are ready to sort through them. Whatever the reason, a storage unit can provide an extra degree of convenience and peace of mind during a stressful time. Another popular use - home staging. By storing excess furniture and other items, you can create a more spacious and visually appealing look that will appeal to potential buyers.
A storage unit can help you seasonalize your home to protect outdoor furniture from harsh weather, or declutter your indoor space by storing items you're not currently using, but want to keep. It's also perfect for staging a garage sale, as a place to store holiday decorations or other seldom-used items.
The useful ways to use a Storage Box are endless. Here are some other projects that a storage unit at home is commonly used for:
Storage for a temporary guest between homes

Garage epoxy or renovation

New flooring installation

Shed rebuilding
How are storage containers delivered?
The Storage Box offers tilt-free delivery of storage containers right to your door. This means that your storage container will be delivered and picked up without being tilted. Our proprietary system, The Box Lift, is the strongest and safest remote-controlled tilt-free system. Your Box is lowered gently to the ground, so you don't have to worry about tilting, dropping, dragging or bottoming out that could damage your driveway!
Watch our patented system, The Box Lift, in action!
Want to know how The Box Lift compares to other how other container providers deliver? You can read the full article comparing delivery systems here.
How much does it
cost to rent a storage container?
The Storage Box offers storage units at home for as low as $5 per day! The Storage Box is the only provider to offer true daily rates, with no monthly minimum fees. We believe if you only want a Box for 1 week, you shouldn't have to pay for a full month! When your Box is returned, we credit back the days you didn't use.
Other container providers charge monthly minimums - so you pay every 4 weeks with no refunds of unused time. Not only do they charge monthly minimums, but their rental fees are higher when compared to our rates for the same 4 week period.
The Storage Box offers transportation rates that are below or competitive in the markets we serve.
Storage Container
Types & Sizes
The Storage Box offers a variety of storage container types and sizes to choose from, so it's important to select the one that best suits your needs or your project.
As shown below, we offer Storage Boxes and Shipping Boxes.
A Storage Box is the premium insulated container. All Storage Boxes are 8' (feet) wide and come in optional lengths of 8', 12', 16' and 20'. They have the added benefits of smooth walls, anti-mold interiors, easy-to-open doors, multiple convenient tie down points, multiple high security locking options. If you're using a storage unit at home for furniture, or if you're moving, this is the best option.
A shipping box is a standard sea can, or ocean cargo container. These containers are offered in optional lengths of 10, 20 or 40 feet. They do not have the added benefits of a Storage Box but they're great for construction materials, equipment, or items from your garage or shed.
We offer two types of portable storage containers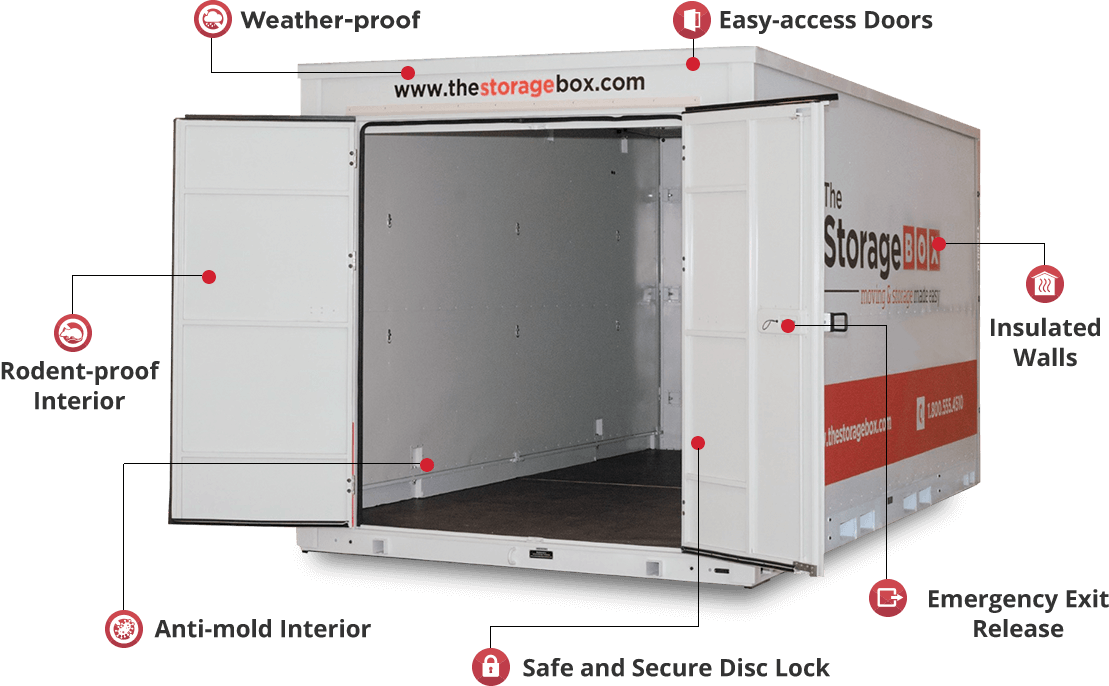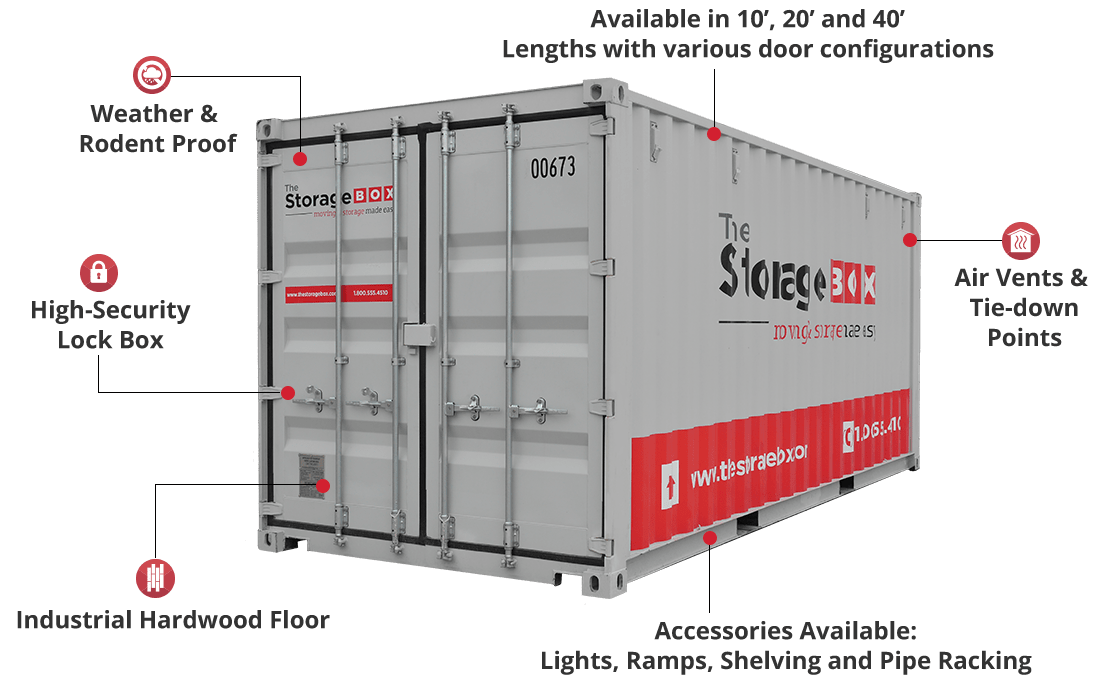 It's simple - why pay more? Save with our low, daily rates!
For pricing on your options and transportation, go to our Instant Quote page or call us at 1-800-555-4510 to book yours today!