What is a big box storage container?
The idea of using box storage is one of the most popular options around the world! These are better known as shipping containers, sea cans, or ocean cargo containers. These containers are also one of the oldest forms of portable storage.
What is a big box container used for?
Big box storage containers are strong and durable, making them ideal for storing heavy or bulky items. They are designed and built to ISO specifications for their primary use - shipping cargo all over the world by cargo ships, trains and trucks. This means that big box storage containers are essentially all the same! Some are manufactured with the intent to only ship items once (one-trip) and are most commonly found in a beige or light tan colour. Containers that are continuously used in international shipping are owned by the shipping lines. Once these are emptied at a destination, they're await to be sold or refilled with cargo to be shipped to another destination. These containers can be man different colours (red, yellow, blue, green) and take abuse over about 10-15 years. They are sold as cargo worthy (CW) or wind and water tight (WWT) containers. One-trip and used containers are bought buy various big box storage companies to rent or sell them to homeowners or businesses.
What made box storage popular for homes & businesses?
There are two main factors for their popularity. The first is they are EVERYWHERE! There are ports located all over the world, storing these containers until they're either sold or filled with cargo to be shipped again. The second, they're inexpensive! You could buy as few or as many big box storage containers when you needed them, or sell them when you don't! It was very easy for anyone to start a business and rent box storage.
Another factor that fed their popularity was you don't need your own truck. Many companies started by outsourcing to tow trucks and tilt-bed services. Many also started as towing companies that later added box storage to their business to fill gaps in their day. Compared to other storage options, such as renting a self-storage unit, big box storage is very cost-effective way to start a small business.
Shipping containers have been around since late 1950s, however the concept of using box storage for the moving industry has exploded in the last 20 years. This has fueled the evolution of portable containers - new containers designed and engineered to better suit the needs of homeowners and businesses.
What kind of portable container should I use for storing furniture?
Our Storage Boxes have many added features that make them the best choice when storing furniture and moving items items from your home. Added features like an anti-mold interior, smooth, insulated walls with multiple tie-down points, slip resistant coated floors, and easy-to-open doors are some of the examples of the latest and greatest design in the evolution of these portable containers.
A byproduct of the evolution of these containers is how they can be delivered - tilt-free transportation. Tilt-free transportation is a recent development in the industry to better suit someone who is moving their valuables. Although not all container providers have tilt-free transportation, it is important to use a company that does to ensure your valuable and driveway are safe from damage during the loading and unloading process.
We offer two types of portable storage containers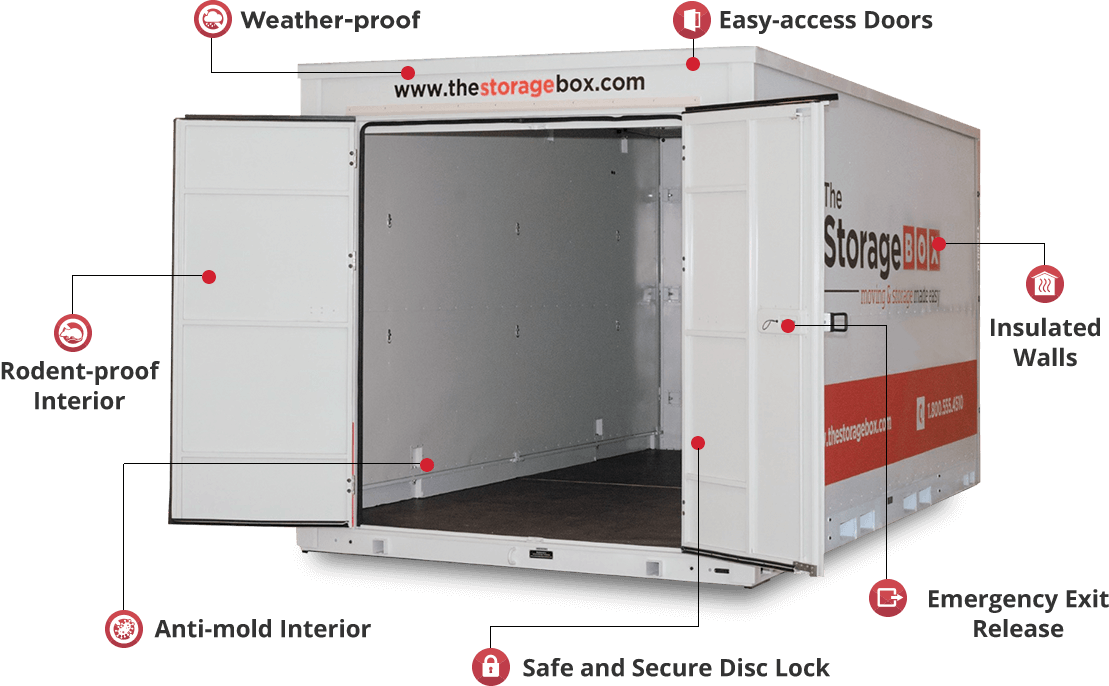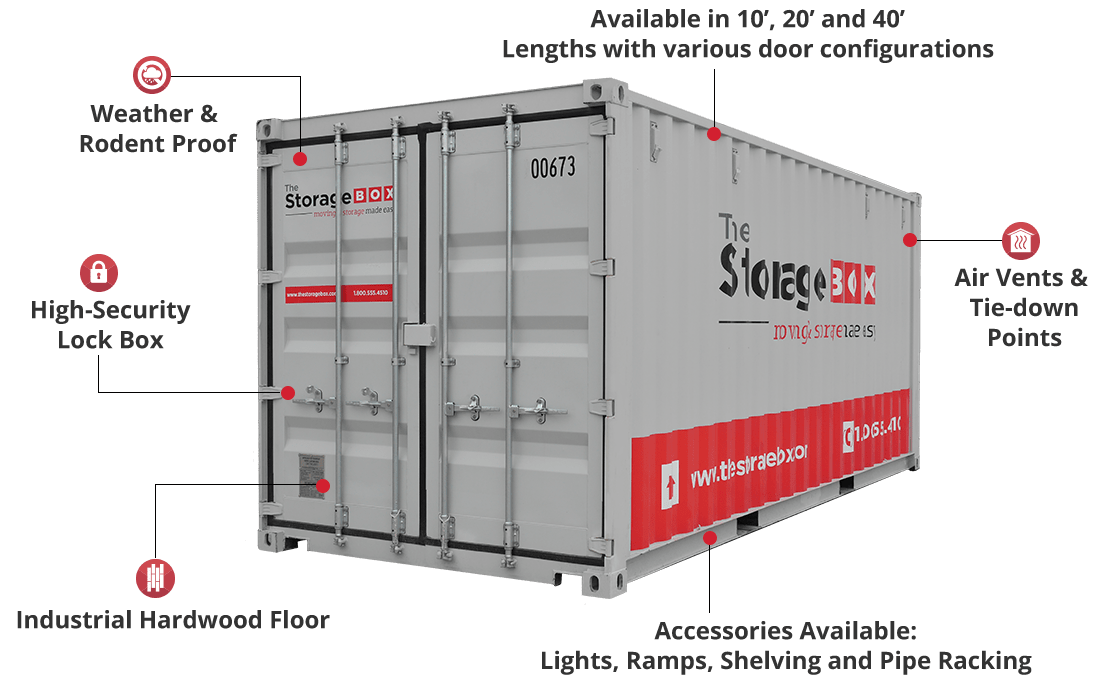 We recommend using the Storage Boxes as they are the best containers for moving. Although the big box storage containers are still widely used in the moving industry, they're better used for other, stationary projects like storing construction materials & equipment. 
For pricing on both options and transportation, visit our quote page or call us at 1-800-555-4510.