Storage Containers
Affordable & Portable
Storage Containers Make it Simple
The one benefit that all storage containers share is their mobility. That's why they're the most convenient way to store your stuff.
Have a Box delivered to you.
Pack & load on your schedule. The Storage Box's low daily rates relieve the pressure of trying to rush to get the job done like you would with traditional methods like truck rentals.
When you're ready, we move it to your new home or we will store it for you until your new home is ready.
Take your time unloading or repainting! Call us when you're done and we'll pick it up!
Our containers come in various sizes and types that are perfect for any need.
Whether you're moving homes or just want a better way to organize your things, storage containers from The Storage Box are the perfect solution.
How are storage containers delivered?
The Storage Box delivers all containers tilt-free. This means the container stays level while being loaded or unloaded - no tilting! This prevents your contents and driveway from any damage commonly caused by other delivery systems used in the industry. The Storage Box's tilt-free system is a proprietary, patented lift system called The Box Lift. It is the safest and strongest system of its kind!
The Ease & Benefits of Using Containers for Storage
There are many ways using container is better than traditional methods like self-storage. But The Storage Box is the only company that can offer you all of the benefits that matter when considering a container for storage:
Load at your leisure, on your schedule. Low cost means stress-free timelines for you.
You have the flexibility to move your container to as many locations as needed; have your Box stored outside our facility or inside our climate controlled warehouse.
The Storage Box is the only company that offers daily rates. Save money, don't pay for rental time you don't need!
The Storage Box offers premium insulated containers and standard shipping containers; sizes ranging from 8' to 40' long. Choose the right box to suit your needs.
Traditional storage like self-storage is prone to rodent damage. With the best containers in the industry and tilt-free transportation, you have peace of mind that your belongings are stored safely.
We offer two types of portable storage containers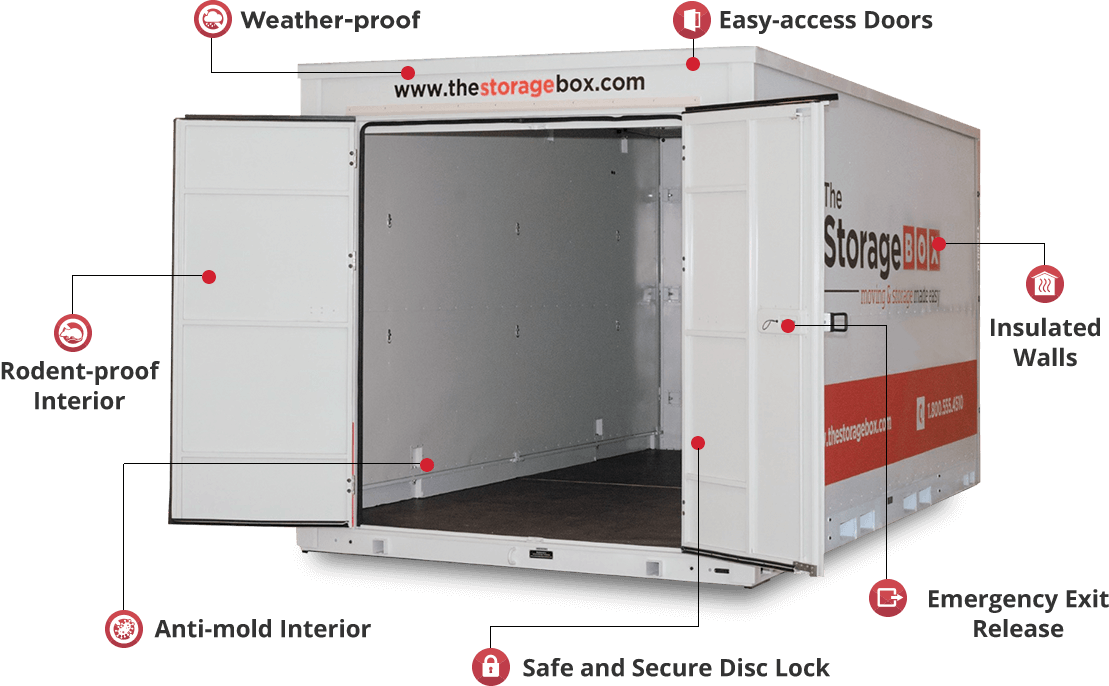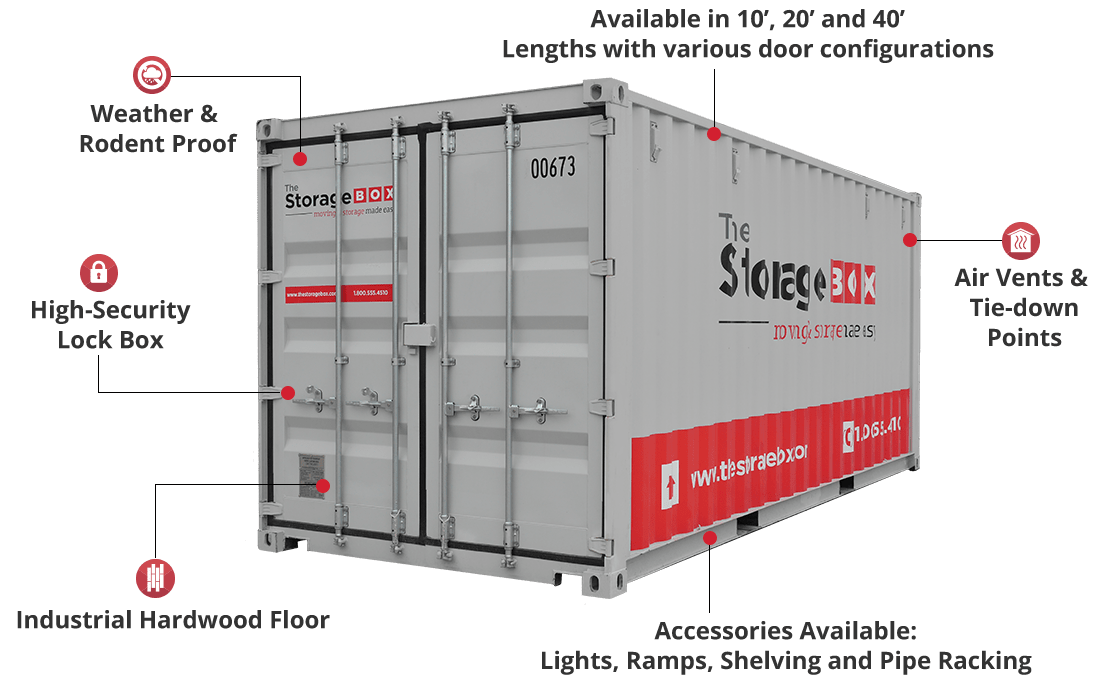 How much is it to rent a storage container?
The cost to rent a storage container is dependant on the size you choose, where you will be storing it and how many times you need to move it. The most affordable container for storage can be as low as $5 per day. The Storage box is the best value around because there are no monthly minimum fees.
Our competitors charge monthly minimums - so you pay for 30 days (4 weeks) even if you used a container for only 1 week. If you use a competitors container for 35 days, you're stuck paying for 60 days. Save money with The Storage Box - get unused rental time back!
At The Storage Box, we pride ourselves on offering transportation rates that are lower than, or in line with, our competitors in the areas we serve.
It's easy - save money by choosing The Storage Box and take advantage of our low, daily rates. For more information on pricing and transportation options, go to our Instant Quote form or call us at 1-800-555-4510 to book your Box today! Interested in buying a storage container? View our containers for sale.