Portable Storage Containers Sarnia
The Storage Box proudly services Sarnia, Lambton and the surrounding area with our storage container rentals. For information or to book a reservation, please give us a call! 
Phone:
1.800.555.4510
Hours:
Monday – Friday: 8:00am – 5:00pm
Saturday: 8:00am – 1:00pm
General Questions & Inquiries
We would like to hear from you! It's easy, click here.


Outside Sales/Contractor & Business
Need temporary storage for your business? Maybe something permanent? The Storage Box offers great long-term rental rates and used shipping containers for sale. Our sales rep will ensure you get the best service, the best solution, at the best price. Schedule a call with a sales representative to discuss your needs.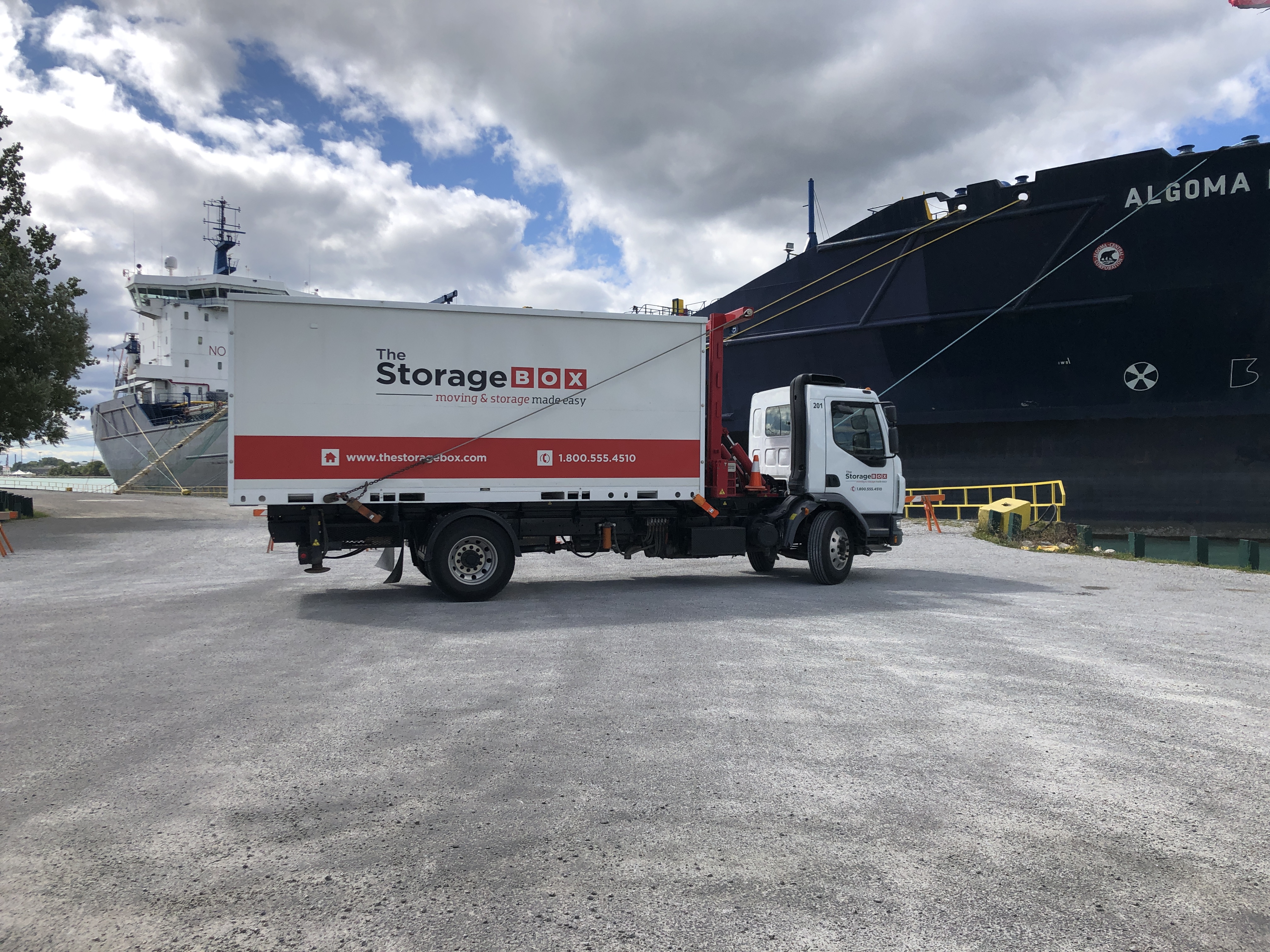 Our
moving & storage service
in Sarnia
Our service in Sarnia includes portable storage container rentals, storage box sales, and shipping container sales. The Storage Box was the first and only to offer tilt-free transportation exclusively in the region.
Our customers in Sarnia can store their loaded Storage Box in our outdoor storage yard, or in one of our container warehouses. The Storage Box is the only container rental provider that offers heated indoor storage for moving storage containers in the region. 
The Storage Box has improved traditional portable storage container services, features and design. The Storage Box has the largest fleet of TILT-FREE delivery systems and is the only provider of insulated storage containers in Sarnia. We provide our customers with many benefits and deliver a valuable, low-cost alternative to truck rentals, traditional self storage, and unique options for mobile storage. The Storage Box is the regions top rated moving company on Google with over 180 five-star reviews, you'll quickly see we are not just another local moving company. 
Looking for a moving company in Sarnia? Many people look for the cheap way to move, or the easiest way to move - The Storage Box offers both! Moving containers are not just an alternative to a moving company or renting a uhaul, its the superior option. The Storage Box provides first-class service & equipment at economy prices. Whether you're using one of our shipping containers for moving, or one of our premium insulated storage containers, you're guaranteed the best price and the most  professional service in the business. Our team of expert drivers and fleet of TILT-FREE trucks take extra care with your valuables and we will never outsource your move to a towing company. Make sure you check out our moving checklist to help you stay organized and on-track. 
The Storage Box is the fastest growing storage container rental company in Ontario and the only portable storage provider that properly services all of Southwestern Ontario. Moving to Sarnia from out-of-town creates added challenges. Don't worry, we make this part easy, Sarnia's moving experts are ready to schedule your move! Our cheap rental rates ease the stress of trying to load, move, and unload within a short time. Take your time, load at your own pace as far in advance as you would like so on moving day, everything is done! The Storage Box in your driveway makes self-loading easy and comfortable. The Storage Box only uses tilt-free delivery systems to deliver our boxes. Tilt-free protects your valuables during the loading and unloading process. Contact us today to learn more about our moving boxes in Sarnia and to reserve yours!
Shipping containers for industrial storage, or moving pods - we have a container to suit your needs. We understand the need for clean & secure storage whether you're a homeowner or business. That's why all our storage containers go through our 7-step cleaning and quality control process. For household items and furniture storage, we recommend our Storage Box. The anti-mold interior, insulated walls and easy-to-open doors make them the perfect, secure & clean environment for your belongings.
Rebuilding the shed? Painting the garage? Maybe you're a contractor that needs storage for construction sites. Storage container rentals in Sarnia make it easy. For this, we recommend our Shipping Box, the cheapest option, and always delivered tilt-free. We also have options like shelving, lighting, pipe racks and more to make the best use of your space. No matter what the application is, we have a solution for storage in Sarnia. 
Visit our STORAGE page to compare the two types side by side.
Sarnia is another border city with the USA. A quick drive across the Bluewater bridge and you're in Port Huron, Michigan. Sarnia is known for its large industrial chemical facilities and refineries being major employers and the area is known as Chemical Valley. Sarnia is a paradise for local boaters and sailors! The many marinas and waterfront are thriving with life in the warmer months.
Sarnia | Point Edward | Corunna | Highland Glen | Plympton-Wyoming | Petrolia | Courtright | Mooretown | Colinville | Kettle Point | Aberarder | Uttoxeter | Bridgen | Camlachie | Errol | Eton Court | Huron Heights | Brights Cove | Blackwell | Glendale Beach