Portable Storage Containers Hamilton
The Storage Box proudly services Hamilton, Wentworth and the surrounding area with our storage container rentals. For more information, or to make a reservation, please give us a call!
Address:
419 Millen Rd.
Hamilton, Ontario
L8E 2P6
(Admin. Only)
Phone:
1.800.555.4510
Hours:
Monday – Friday: 8:00am – 5:00pm
Saturday: 8:00am – 1:00pm
London Facility Includes:
Administrative office (closed to public)
General Questions & Inquiries
We would like to hear from you! It's easy, click here.


Outside Sales/Contractor & Business
Need temporary storage for your business? Maybe something permanent? The Storage Box offers great long-term rental rates and used shipping containers for sale. Our sales rep will ensure you get the best service, the best solution, at the best price. Schedule a call with a sales representative to discuss your needs.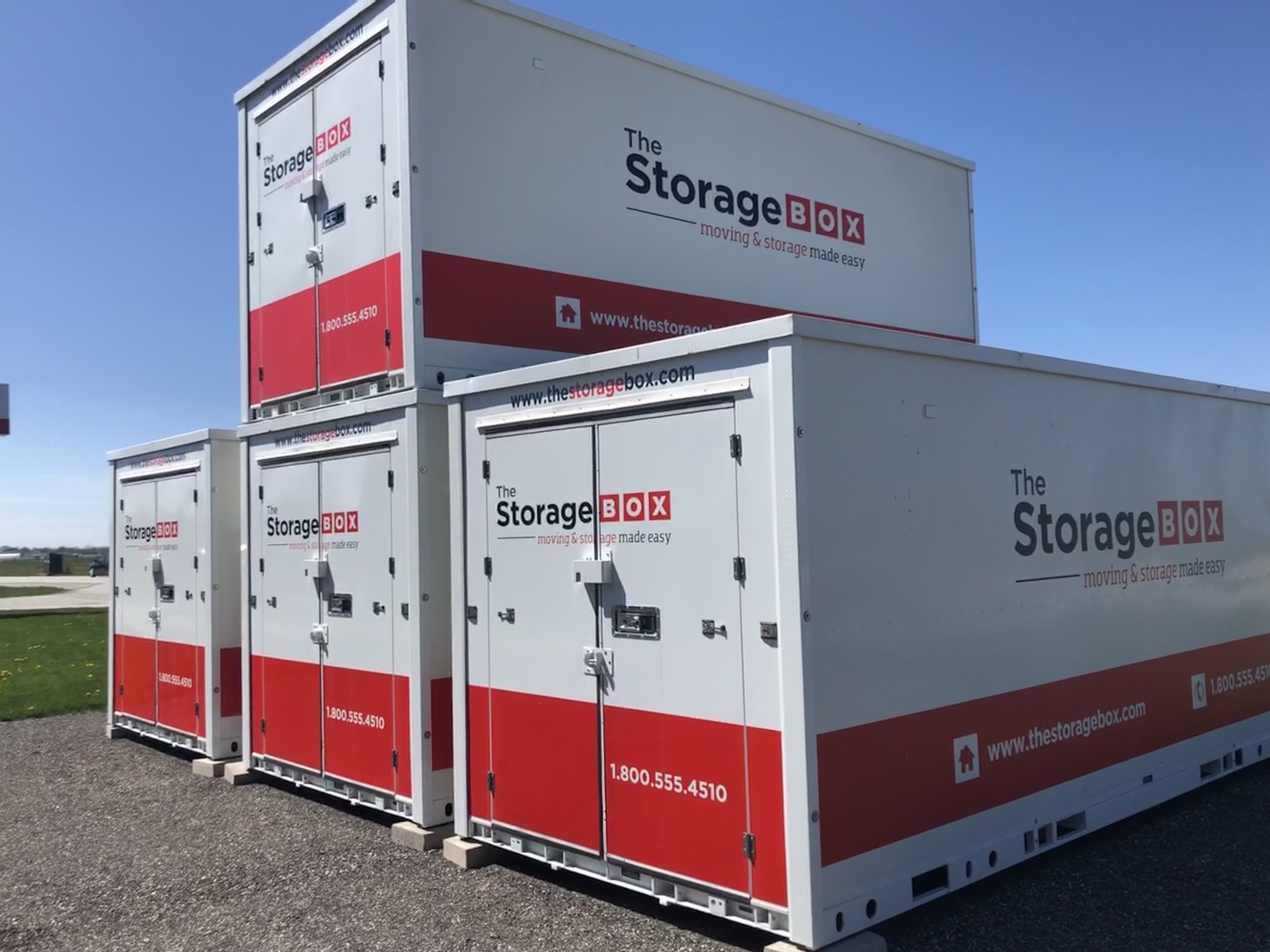 Our moving & storage service in Hamilton
Our service in the Hamilton and Wentworth Region includes storage container rentals, storage container sales, and shipping container sales.  You can conveniently store your loaded Storage Box in one of our container warehouses. If you only require outdoor storage for your Storage Box, we also have a large secure storage yard.  We offer moving boxes & moving supplies delivered to you! We also provide appliance cart & furniture dolly rentals.
The Storage Box has improved the traditional portable storage container with improved features and design.  Our Storage Boxes are available in 8ft, 12ft, 16ft and 20ft lengths. We also have 10ft, 20ft & 40ft Shipping Box.
We provide our customers with many benefits and deliver a valuable, low-cost alternative to truck rentals and traditional self-storage.  The Storage Box has one the largest fleet of storage containers and tilt-free container delivery trucks in Ontario.
The Storage Box is the region's top-rated moving company on Google with over 200 five-star reviews; you'll quickly see we are not just another moving container provider.
Looking for a moving company in Hamilton? It doesn't have to be stressful! Moving in Hamilton has never been easier! The Storage Box provides the cheapest, stress-free way to move, whether it's around the corner or across the city. You can move on to your schedule and take your time to load and unload. The Storage Box in your driveway makes self-loading easy and comfortable, and if you prefer, you can hire a moving hand to help with a few of your heavier items. The Storage Box only uses tilt-free delivery systems to deliver our boxes. Tilt-free protects your valuables during the loading and unloading process.
Welcome to Hamilton, the waterfall capital of the world! Moving to Hamilton from another area of Southwestern, Ontario, is now easy and affordable! The Storage Box is the only provider of mobile storage containers that properly offers complete portable storage and moving service in all of Southwestern Ontario.
We understand moving between cities can have complicated timelines. Ease the stresses of moving day by packing and loading your Box gradually overtime before your closing date. Do you have a gap between closing dates? No problem, we will move your loaded container to The Storage Box location nearest you for storage until you're ready to continue the journey. Yes, it is that easy. Call us today to learn more about our moving boxes or reserve one for your move!
Portable storage Hamilton
Are you renovating the house? Want to epoxy the garage floor? The Storage Box has the perfect storage for furniture, tools or materials during a renovation project or if you simply need some extra space at home. Get the storage space you need right in your driveway! Our rental rates are cheap, so that you can focus on the project at hand. Simply call us when you're done.  All our storage containers are weather and rodent-proof, so you know your belongings are safe. Click here to read about how you can use our mobile storage as self-storage. Storage container rentals in Hamilton are just a phone call away!
Welcome to Hamilton the third-largest metropolitan area in Ontario and the ninth-largest in Canada, situated on the shore of Lake Ontario south of Toronto and divided by the forested Niagara Escarpment.  Hamilton is a place where you can enjoy a popular downtown area and the many woodlands and outdoor trails like many of the proud Hamiltonians do.   Hamilton enjoys a robust and diversified economy and is a convenient location with just over an hour's drive from Toronto.
Did You Know...
The first Tim Hortons opened in Hamilton! Yes, Canadians are addicted to the famous Canadian Tim Hortons coffee, founded in 1964 in Hamilton, Ontario at 65 Ottawa Street North.
Hamilton is the waterfall capital of the world! Niagara Falls might be the most famous waterfalls in North America, but Hamilton has over 100 waterfalls within its city limits.
Hamilton has the biggest botanical garden in Canada!  With 2,700 acres, Royal Botanical Gardens in Hamilton is one of the largest in the world.
Hamilton & Wentworth County
Albion Falls | Ancaster| Binbrook| Dundas| East Hamilton | Meadowlands | Mt. Hope| Stoney Creek| Waterdown | Winona