Portable Moving Containers Windsor
Address:
4205 County Rd 42
Windsor, Ontario
N8V 0A5
Local Phone:
519.997.4872
800.555.4510
Hours:
Monday – Friday: 8:00am – 5:00pm
Saturday: 8:00am – 1:00pm
Windsor Facility Includes:
Showroom, Administration Offices, Heated Container Warehouse, Outdoor Storage Yard, Document Storage
General Questions & Inquiries
We would like to hear from you! It's easy, click here.
Outside Sales/Contractor & Business
Looking for a moving company in Windsor to help with the needs of your business?  Schedule a call with a sales representative to ensure you get the best solution, at the best price.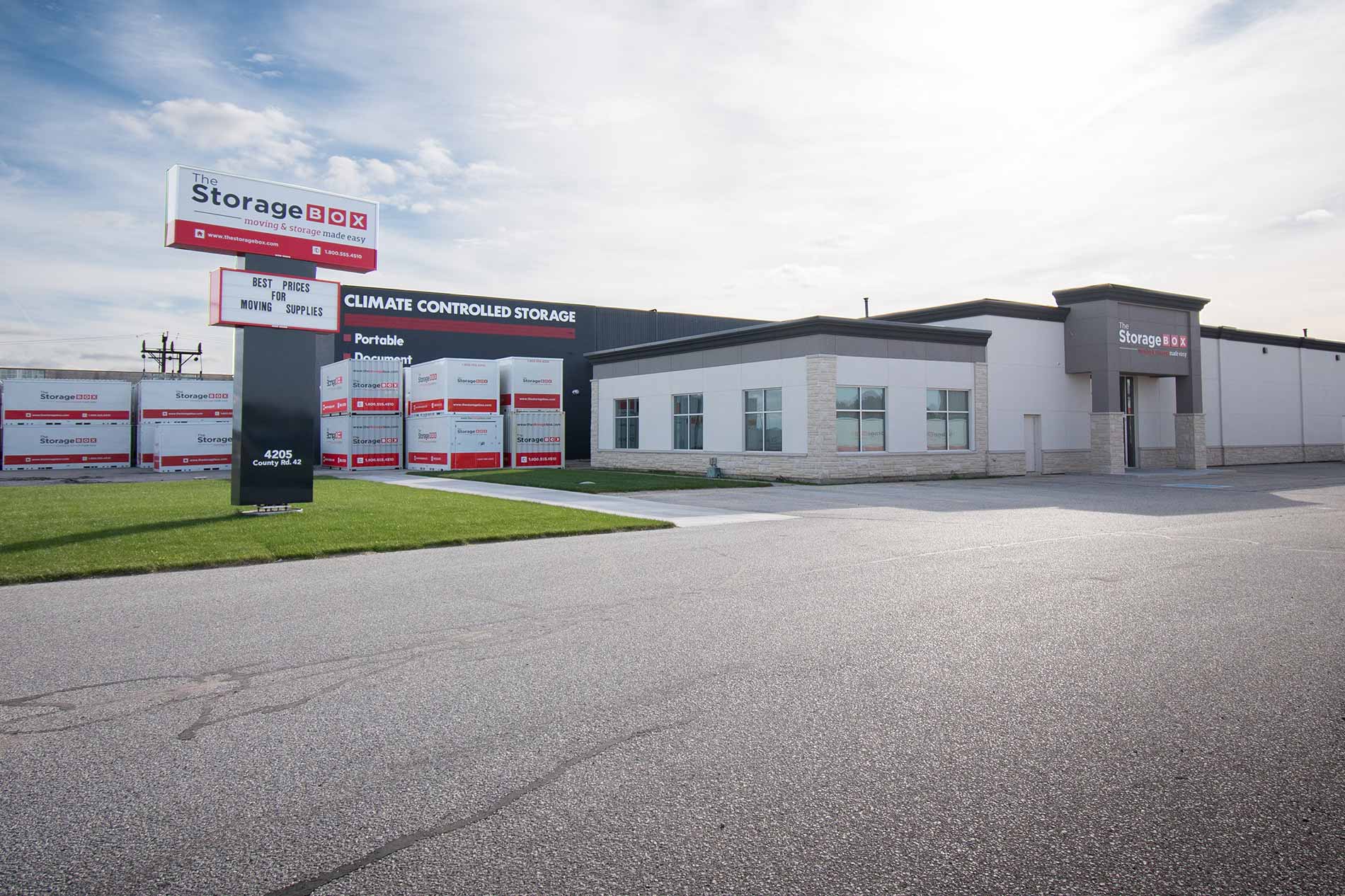 Our
moving company
in Windsor
Our moving service in Windsor includes storage container rentals, storage container sales, and shipping container sales. Visit our showroom to pickup some moving boxes & supplies, or have the moving supplies delivered to you! We also offer appliance cart & furniture dolly rentals. 
The Storage Box is home to Windsor's first and only facility that has climate controlled storage for moving containers. You can conveniently store your loaded Storage Box in our warehouse. If you only require outdoor storage for your Storage Box, we also have a large secure storage yard. 
Our insulated Storage Boxes are available in 8ft, 12ft, 16ft and 20ft lengths. We also have 10ft, 20ft & 40ft shipping containers. 
The Storage Box has improved the traditional portable storage container features and design and offers tilt-free lift transportation and climate controlled storage for our Storage Boxes. We provide our customers with many benefits and deliver a valuable, low-cost alternative to truck rentals and traditional self storage.
When looking for moving companies in Windsor, your best options is The Storage Box! Moving can be expensive and stressful, but it doesn't HAVE to be! Moving in Windsor has never been easier! The Storage Box provides the cheapest, stress-free way to move, whether it's around the corner or across the city. You can move on your schedule and take your time to load and unload. The Storage Box in your driveway makes self-loading easy and comfortable, and if you prefer, you can hire a moving hand to help with a few of your heavier items. The Storage Box only uses tilt-free delivery systems to deliver our boxes. Tilt-free protects your valuables during the loading and unloading process. 
Welcome to the Rose City! Moving to Windsor from another area of Southwestern Ontario is now easy, and affordable! Looking for moving boxes in Windsor, The Storage Box is the only provider that properly services ALL of Southwestern Ontario. 
We understand moving between cities can have complicated timelines. Ease the stresses of moving day by packing and loading your Box gradually over time before your closing date. Do you have a gap between closing dates? No problem, we will move your loaded container to The Storage Box location nearest you for storage until you're ready to continue the journey. Yes, it really is that easy.
The City of Windsor is the leading port of entry from the United States, and it is Canada's most Southern city known for its "mild climate". The Detroit River separates Windsor and Detroit, providing both sides with excellent views of their respective skylines. 
The City of Windsor is a commercial and manufacturing region and has a rich farming area that produces many fruits and vegetables. Windsor is a leading manufacturer of motor vehicles, parts, salt, whiskey, industrial machinery, and many steel and plastic products. 
Planning a local move in Windsor and Essex County, The Storage Box is the provider of choice for Windsor families seeking moving and storage solutions.  Take a look at our google reviews to learn why we have so many 5 stars reviews. 
Movers for Windsor
& Essex County
Windsor | Lasalle | Tecumseh | Lakeshore | Amherstburg | Harrow | Colchester | Belle River | Comber | Wheatley | Essex | Leamington | Kingsville | St. Joachim | Stoney Point