Container Storage
Portable & Convenient
An easy solution to store your belongings that's more convenient than self-storage. Container storage units are portable, flexible and cheaper than traditional self-storage. You can load it at your location and store it at ours! With container storage, you can get the job done quicker, save money, and enjoy peace of mind knowing that your possessions are securely stored out of your way.
How can I
use
Container Storage?
The possibilities are endless! Whether being stored at your location or at ours, the convenience is unmatched! Some common uses are:
Renovations
Storage needed between homes
Seasonal items storage
Storage for extended stay out of country or overseas
Long term storage for downsizing or moving into retirement community
What are the Types of Container Storage
Units?
The Storage Box offers a variety types and sizes so you can choose the best option to suit your storage needs.
We offer two types of boxes: Storage Boxes and Shipping Boxes.
Our Storage Box is a premium insulated container that is designed and engineered for moving and storage. All Storage Boxes are 8' (feet) wide and come in optional lengths of 8', 12', 16' and 20'. They have the added benefits of smooth walls, anti-mold interiors, easy-to-open doors, multiple convenient tie down points and multiple high security locking options. A Storage Box is the best container storage unit for storing furniture and other household items, and of course, moving!
A shipping box is commonly known as a cargo container or sea can. These containers are offered in optional lengths of 10, 20 or 40 feet. Although they don't have the benefits and features of a Storage Box, they're great for construction materials, equipment, or items from your garage or shed.
While other container storage companies only carry shipping containers or a economy version of our storage box, The Storage Box is the only company to offer shipping containers and premium, insulated Storage Boxes.
Outdoor & Indoor
Container Storage
The Storage Box is one of only few container storage companies in Canada to offer indoor storage. We will bring your container storage units to one of our secure, climate-controlled facilities for as long as you require. It's that easy! No need to unload into another storage unit, your filled container is placed inside the warehouse until you're ready for it.
If you're storing items that are delicate, keepsakes, fine wood furniture, or TVs it is always best to store inside. The demand for climate-controlled storage is always high, but it might not be worth it depending on what you want to store and when. It often comes down to personal preference. If you don't think you need indoor storage, no problem! The Storage Box also has outdoor storage at our facilities. Most container storage companies only have outdoor storage. The Storage Box can offer you both indoor and outdoor to suit your needs and the season!
Need to access your container? No problem! Accessing is easy - just call us with a minimum 24hr notice and your container will be ready for you in our designated customer access area.
We offer two types of portable storage containers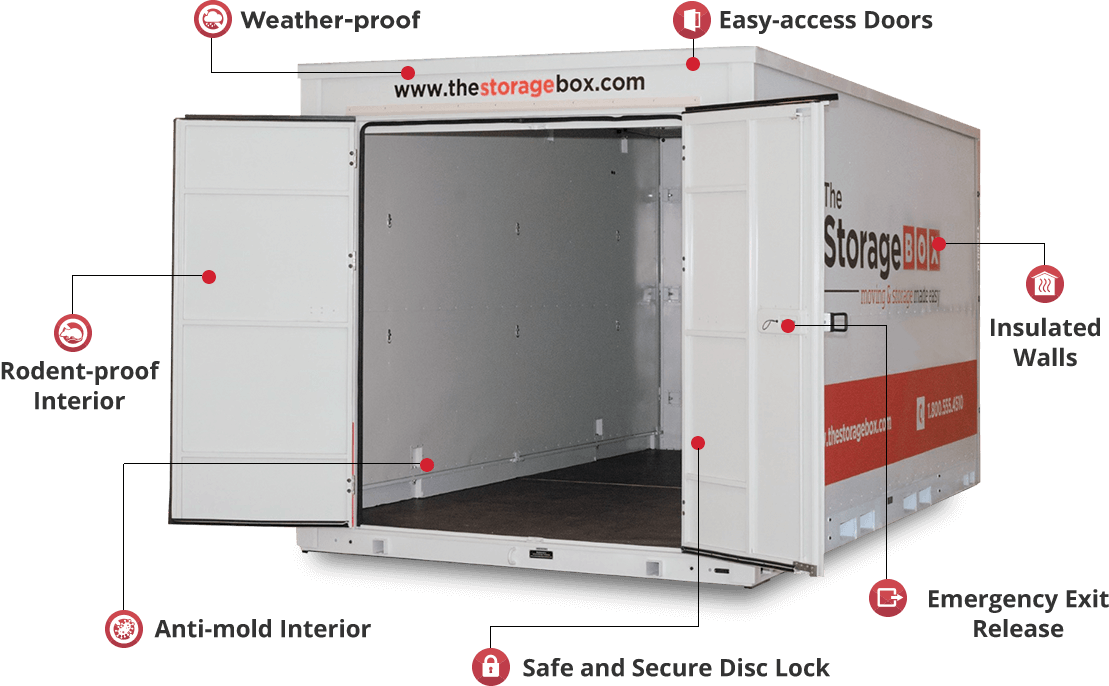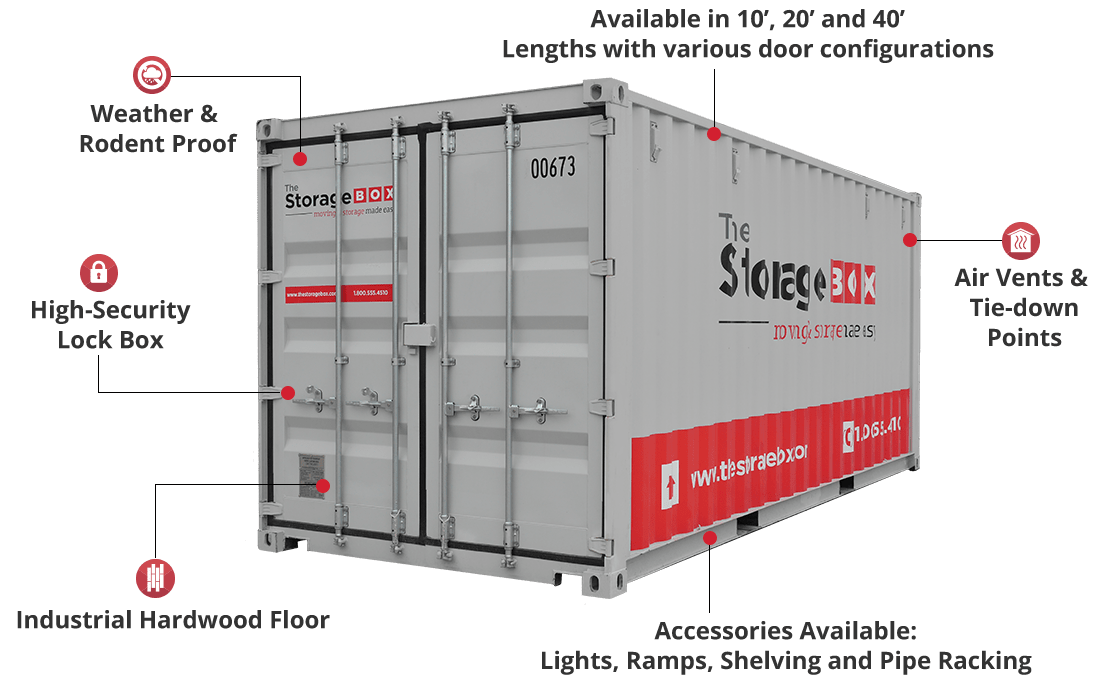 Do I need protection for my contents in storage?
Extra peace of mind is not a bad idea! The Storage Box does no require you to have a form of insurance on the Box or the items stored. Although many container storage companies have a mandatory extra charge for contents protection, with us it is optional.
If you are considering extra protection, it is important to understand what is covered, what is not, and where.
If you're storing with us inside our outside one of our facilities, you have the option of our Container Protection Plan. This plan will cover eligible contents up to $20,000 while being store at our locations.
For protection while being stored at your location, check your home insurance or renters insurance policy it provides "off-premises" personal property coverage. If so, ask your insurance agent or company about your policy's coverage limits and what types of perils are covered.
Many container storage companies do not have indoor storage, premium containers or optional contents coverage. It is important to choose a reputable and trustworthy company when considering container storage for your belongings.
Contact The Storage Box today to learn more and book your Box!